You are here : About Us » Executive Director Message
Executive Director Message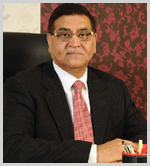 Dr.Naresh Nagpal
Executive Director

Sri Sai group which had a very humble start in the field of higher and Technical education in the year 1996 has become a force to reckon with now.
I strongly believe that growth is not a God's given right. The era of easy growth in any field is over now. It is the hardwork, dedication and devotion of any oragnisation which make the success stories possible/happen. The Management of Sri Sai Group of Institutes believes in walking an extra mile from others in order to make it vibrant, happening and ahead of other Groups.
In this endeavor, the Group under the command and guidance of great visionaries Er. S.K. Punj Chancellor and Smt. Tripta Punj Pro- Chancellor and with the blessings of Sh. Ram Iqbal Bhardwaj Ji (Patron) established Sri Sai University at Palampur in 2012. The University is all set to find the solutions to the great challenges of the day to prepare the students to become the next generation leaders.