You are here : About Us » Chancellor Message
Chancellor Message
Er. S. K. Punj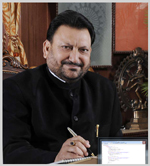 Chancellor
Sri Sai University, Palampur
I feel pleasure in addressing the perspective students and Parents of Sri Sai University Palampur through this message.
The state of Himachal Pardesh has been going deficient in technical man power for decades. The irony of the situation has been that this state has very vast potential for growth and employment, but lacked in institutions providing higher education. Though late, but this gap has been filled now by opening the flood gates of technical education in the State of Himachal Pardesh by some appreciable initiatives on the part of the State Govt. Himachal Pradesh has to prove its superiority by making full use of the higher education avenues available now in the state.
Sri Sai University Palampur has been established with a very pious motive of providing, quality education at affordable price.
The Management of the University fully realizes the aspirations of the parents who have every reason to feel concerned about the career of their wards. We respect their feelings and promise to deliver in the best possible manner.