You are here : About Us » Registrar Message
Registrar Message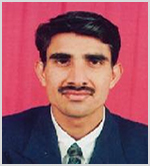 Dr. S. K. Malik
Registrar, Sri Sai University Palampur
Mob. No. +91-97365-99999
Email : registrar@srisaiuniversity.com

Let me first of all, welcome you warmly to our Sri Sai Group of Institute family. Sri Sai University was established by the Govt. of HP under Act namely 'Sri Sai University (Establishment & Regulation) Act 2010 (No. 3 2011). The foundation stone of the University was laid down by Sh Prem Kumar Dhumal Hon'ble Chief Minister of HP and Sh Shanta Kumar Hon'ble Member of Rajya Sabha and Sh Ishwar Das Dhiman Hon'ble Education Minister HP in the presence of Sh Babu Ram Iqbal Bhardwaj, Er. S.K. Punj and Smt. Tripta Punj on 23/09/2009.
The first academic session 2010-11 was started on 8th October, 2010 and University made admissions in MBA, BBA, B.Tech. (CSE, ECE, EE , ME, CE) and B.Tech. Integrated courses. Presently University is running Ph.D. programmes in Management studies as well as in Physics and Chemistry, M.Phil programmes in Management, Physics, Chemistry and Maths, M.Sc programmes Physics, Chemistry, Maths and Zoology in MBA, BBA, B.Com, MCA, BCA and B.Tech and M.Tech (CSE, ECE, EE , ME, CE). From the new academic session i.e. 2018-19, the new courses namely M.Phil in Computer Applications, M.Sc. in Botany and M.A. in English and Economics will also be running. Our University is an attempt to serve the ends of technological excellence which is the desire of mankind from centuries. Our aim is to impart the best of the knowledge to our students with well-equipped Lecture Halls, Seminar Rooms, Tutorial Rooms, Computer Labs, Corporate Placement process, Group interaction exercises and a rich library.

I invite sincere and committed students who not only dream but who also work hard, to join Sri Sai University and become competent professionals. I trust your stay in the University will be richly rewarding and immensely memorable. I wish my students all the best.